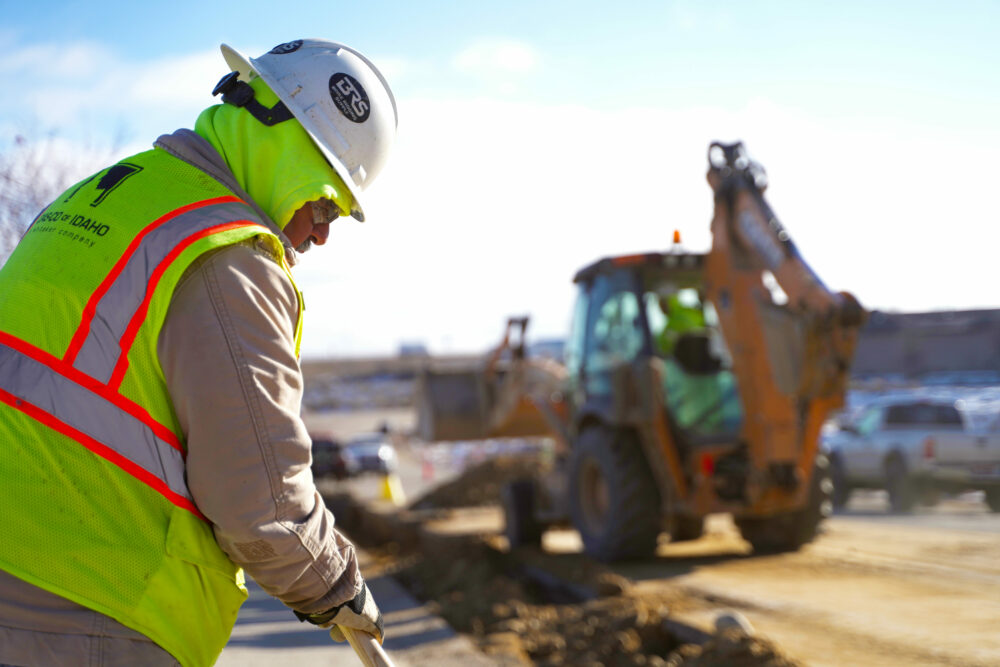 Nampa, Idaho, Pocatello, Idaho, Twin Falls, Idaho
CONSTRUCTION LABORER
Overview
Job Summary:
A Construction Laborer is responsible for general laborer duties on construction sites. They may prepare sites by cleaning them, loading, or unloading materials, digging trenches, compacting earth, and removing hazards. Construction Laborers are essential to highway construction, utility construction, and environmental remediation.
Das-Co of Idaho, a Whitaker Company, offers an exceptional benefits package including:
• Employee Stock Ownership Plan (ESOP). Employees earn shares in the company – All employees have ownership in the company and its success
• Competitive wages
• Health, Dental, Vision, Life, Short Term Disability, Supplemental Insurance
• 401 K and Match
• Vacation
• Paid Holidays
• Paid Personal Days
• Quarterly Incentive Program (profit sharing)
• Referral Bonuses
• Employee Assistance Program (EAP)
Responsibilities
Roles and Responsibilities:
Including but not limited to the list below.
• Prepare construction sites by clearing obstacles and hazards.
• Use various equipment, hand, and power tools.
• Proficient in the safe and efficient use of layout tools, and measurement tools.
• Measure and mark pipes for cutting.
• Ability to load or unload construction materials, pipe, and equipment.
• Dig, spread, and level dirt and gravel, using pick, rake, shovel, etc.
• Dig up existing pipes and lines.
• Prepare ground trenches for pipes and utility lines.
• Use chains, slings, or guide wires to rig pipes, trench boxes, and slide rail shoring systems.
• Guide pipes and shoring devices into place, assisting the equipment operator.
• Join, wrap, seal, and bed sections of underground pipe.
• Remove, fill, or compact earth.
• Assist with establishing alignment and grade with the use of grade stakes and lasers.
• Coordinate all other activities in the excavation as directed.
• Signal equipment operators to facilitate alignment, movement, and adjustment of machinery to conform to grade specifications.
• Work safely around heavy equipment, and people at all times.
• Produce high quality work, safely and productively at all times.
• Assist all craft workers.
• Perform clean-up in connection with the work.
• Comply with all safety policies, procedures, and standards of safety.
• Move from job to job as projects progress
• Other light duties and responsibilities may be assigned by supervisors.
Qualifications
Skills and Qualifications:
• High School Diploma or GED preferred. Any vocational training is strongly desired.
• Those with an education and/or work-related credential from a secondary or post-secondary educational system will be given preferred interview status (Precision Exams, NOCTE, etc.).
• Must be at least 18 years of age.
• Display a willing attitude to learn from others.
• Possess a strong sense of personal responsibility.
• Focus to work safely in close proximity to heavy equipment and underground utilities.
• Excellent written and verbal communication skills.
• Ability to work effectively in a team environment.
• Valid driver's license and reliable transportation to get to and from work.
Physical Requirements:
• Able and willing to work long hours including day, night, weekend shifts as needed, and work outside of normal hours.
• Able to walk, lift, reach, stoop, stand, grasp, balance, climb, kneel, crouch, and lift up to 50 pounds frequently.
• Able to work in outside environments being subjected to weather changes, noise, vibrations, and job hazards.
• Ability to do physical labor and other strenuous physical tasks.
Das-Co Values:
• Build the Best
• Be Honorable
• Elevate Team
• Value Safety
• Embrace Ownership